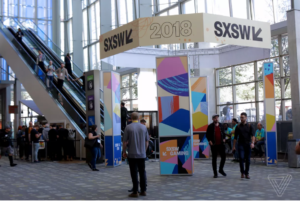 "Fifteen years ago, when we were coming here to Austin to talk about the internet, it was this magical place that was different from the rest of the world," said Ev Williams, now the CEO of Medium, at a panel over the weekend.
"It was a subset" of the general population, he said, "and everyone was cool. There were some spammers, but that was kind of it. And now it just reflects the world." He continued: "When we built Twitter, we weren't thinking about these things. We laid down fundamental architectures that had assumptions that didn't account for bad behavior. And now we're catching on to that."
Questions about the unintended consequences of social networks pervaded this year's event. Academics, business leaders, and Facebook executives weighed in on how social platforms spread misinformation, encourage polarization, and promote hate speech.
The idea that the architects of our social networks would face their comeuppance in Austin was once all but unimaginable at SXSW, which is credited with launching Twitter, Foursquare, and Meerkat to prominence.
But this year, the festival's focus turned to what social apps had wrought — to what Chris Zappone, a who covers Russian influence campaigns at Australian newspaper The Age, called at his panel "essentially a national emergency." 
Steve Huffman, the CEO of Reddit discouraged strong intervention from the government. "The foundation of the United States and the First Amendment is really solid," Huffman said. "We're going through a very difficult time. And as I mentioned before, our values are being tested. But that's how you know they're values. It's very important that we stand by our values and don't try to overcorrect."
Sen. Mark Warner (D-VA), vice chairman of the Senate Select Committee on intelligence, echoed that sentiment. "We're going to need their cooperation because if not, and you simply leave this to Washington, we'll probably mess it up," he said at a panel that, he noted with great disappointment, took place in a room that was more than half empty. "It needs to be more of a collaborative process. But the notion that this is going to go away just isn't accurate."
Nearly everyone I heard speak on the subject of propaganda this week said something like "there are no easy answers" to the information crisis.
And if there is one thing that hasn't changed about SXSW, it was that: a sense that tech would prevail in the end.
"It would also be naive to say we can't do anything about it," Ev Williams said. "We're just in the early days of trying to do something about it."
Source: The Verge – Casey Newton