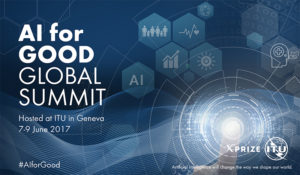 AI for Good Global Summit
The United Nations this week is refocusing AI on sustainable development and assisting global efforts to eliminate poverty and hunger, and to protect the environment.
"Artificial Intelligence has the potential to accelerate progress towards a dignified life, in peace and prosperity, for all people," said UN Secretary-General António Guterres. "The time has arrived for all of us – governments, industry and civil society – to consider how AI will affect our future."
In a video message to the summit, Mr. Guterres called AI "a new frontier" with "advances moving at warp speed."
He noted that that while AI is "already transforming our world socially, economically and politically," there are also serious challenges and ethical issues which must be taken into account – including cybersecurity, human rights and privacy.
"This Summit can help ensure that artificial intelligence charts a course that benefits humanity and bolsters our shared values" 
 Source: UN News Centre