We're Phil and Pam Lawson. And this blog is a collaborative effort.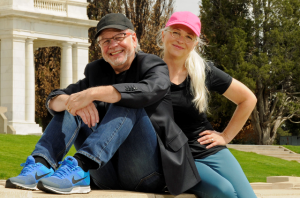 photo by Larry Lazlo  
We launched this blog in June of 2014 as a way for us to keep track of the rapid advances occurring in AI, many of which will be uncharacteristically disruptive to our society. And, it was a way to seek and follow discussions by developers of Artificial Intelligence who are pioneering how to socialize AI for human development. Which, directly relates to the work we've done.
A dozen years ago we launched an R&D company that operated as a SaaS to cover development costs. OUR PURPOSE? Behavior growth, in real-time, using human-centric technology founded on a wholistic approach to problem-solving & decision-making.
Early on, using a basic online tech & simple visual model, we set out to answer TWO vital questions: 
Would people trust technology to capture their private intimate views and would they use it to grow personally?

If so, would this approach work for any complex human situation, in life and work and community?
Halfway through, we added a THIRD question:
Could this tech and methods create more meaningful AI-to-Human interactions?
We're proud of the results for numbers 1 & 2. They provide the algorithms for No. 3. This is crucial since No. 3 is our "end goal."
[This research involved 70+ client-projects, more than 40+ applications, was funded, in part, by five noted foundations and experienced by 37,979 people.]
Our goal is to introduce this work to an AI team that has the capabilities to scale it. 
Would you like to learn more? Text or call us @ 720-257-9202
NAVIGATING THIS BLOG: This is curated information about AI as it applies to socializing AI. We don't comment on every blog post. Most are excerpts of news items. Others, are notable quotes. All of them direct you, the reader, to the original source of the material if you want to delve deeper. When we do comment, you'll find our personal observations in purple text.
---