We're Phil and Pam Lawson. And this blog is a collaborative effort.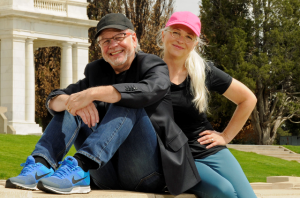 photo by Larry Lazlo  
We began this blog in June of 2014 as a way for us to stay current with, and keep track of, the rapid advances occurring in AI. If you've discovered this site, we hope you find it informative. 
NAVIGATING THIS BLOG: This is curated information about AI as it applies to socializing AI. We don't comment on every blog post. Most are excerpts of news items. Others, are notable quotes. All of them direct you, the reader, to the original source of the material if you want to delve deeper. When we do comment, you'll find our personal observations in purple text. 
Who are WE?
For the last dozen years the focus of our secular work has been on creating a technology interface (& protocols) for whole human behavior growth. We've operated as a research & development company that performed as a SaaS to cover development costs. The results of this work will, we believe, help facilitate more meaningful AI-to-Human interactions. 
Human growth is the new frontier for AI.
The human experience is diverse, our decision-making, irrational, our thought processes, entangled. Meanwhile, artificial intelligence is built on binary rational constructs. That's not a perfect match-up, irrational humans and rational AI. So, creating more humane ways to facilitate more meaningful AI-to-Human interactions is crucial now. (Contact us if you want to learn more about our work.) 
---