We're Phil and Pam Lawson. And this blog is a collaborative effort.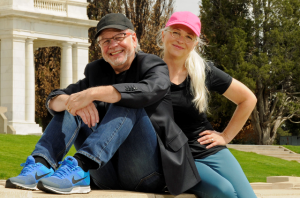 photo by Larry Lazlo  
We launched this blog in June of 2014 as a way for us to keep track of the rapid advances occurring in AI, many of which will be uncharacteristically disruptive to our society. And, it was a way to seek and follow discussions by developers of Artificial Intelligence who are pioneering how to socialize AI for human development. Which, directly relates to the work we've done.
A dozen years ago we launched a tech R&D company that operated as a SaaS to cover development costs. OUR GOAL? Human behavior growth in real-time. 
To meet this challenge, we developed IP that captures a human's current baseline viewpoints of self, in any human situation, and translates this into machine readable/actionable data. This IP makes it possible for an intelligent agent to process and analyze data differently, to fast-track human behavior growth.
Our research involved 70+ client-projects, more than 40+ applications, and was funded, in part, by five noted foundations. More than 39,000 people, from many age groups, have used it in many applications.
Would you like to learn more? Click here to visit our Microsoft Sway page.
We've traveled an unconventional path to do this work, which should matter more than ever as AI developers and ethics groups search for more "diverse" perspectives and participants in this field. 
What do we want? 
To be a part of imprinting the genome of AI with social intelligence for the safety and betterment of human beings.
<#Need2BintheRoom  #Oldmasters  #Wisdom-poweredcode  #Infusionoftalent  #Humanitiesbackgrounds  #peoplefromacrosssociety
________________________________________________________________
NAVIGATING THIS BLOG: This is curated information about AI as it applies to socializing AI. We don't comment on every blog post. Most are excerpts of news items. Others, are notable quotes. All of them direct you, the reader, to the original source of the material if you want to delve deeper. When we do comment, you'll find our personal observations in purple text.