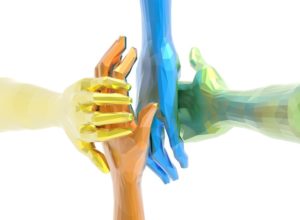 In September 2013, I was diagnosed with fourth-stage lymphoma.
This near-death experience has not only changed my life and priorities, but also altered my view of artificial intelligence—the field that captured my selfish attention for all those years.
This personal reformation gave me an enlightened view of what AI should mean for humanity. Many of the recent discussions about AI have concluded that this scientific advance will likely take over the world, dominate humans, and end poorly for mankind.
But my near-death experience has enabled me to envision an alternate ending to the AI story—one that makes the most of this amazing technology while empowering humans not just to survive, but to thrive.
Love is what is missing from machines. That's why we must pair up with them, to leaven their powers with what only we humans can provide. Your future AI diagnostic tool may well be 10 times more accurate than human doctors, but patients will not want a cold pronouncement from the tool: "You have fourth stage lymphoma and a 70 percent likelihood of dying within five years." That in itself would be harmful.
Patients would benefit, in health and heart, from a "doctor of love" who will spend as much time as the patient needs, always be available to discuss their case, and who will even visit the patients at home. This doctor might encourage us by sharing stories such as, "Kai-Fu had the same lymphoma, and he survived, so you can too."
This kind of "doctor of love" would not only make us feel better and give us greater confidence, but would also trigger a placebo effect that would increase our likelihood of recuperation. Meanwhile, the AI tool would watch the Q&A between the "doctor of love" and the patient carefully, and then optimize the treatment. If scaled across the world, the number of "doctors of love" would greatly outnumber today's doctors.
Let us choose to let machines be machines, and let humans be humans. Let us choose to use our machines, and love one another.
Kai-Fu Lee, Ph.D., is the Founder and CEO of Sinovation Ventures and the president of its Artificial Intelligence Institute.
Source: Wired