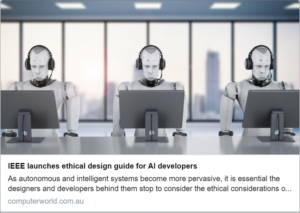 As autonomous and intelligent systems become more pervasive, it is essential the designers and developers behind them stop to consider the ethical considerations of what they are unleashing.
That's the view of the Institute of Electrical and Electronics Engineers (IEEE) which this week released for feedback its second Ethically Aligned Design document in an attempt
to ensure such systems "remain human-centric".
"These systems have to behave in a way that is beneficial to people beyond reaching functional goals and addressing technical problems. This will allow for an elevated level of trust between people and technology that is needed for its fruitful, pervasive use in our daily lives," the document states.
"Defining what exactly 'right' and 'good' are in a digital future is a question of great complexity that places us at the intersection of technology and ethics," 

"Throwing our hands up in air crying 'it's too hard' while we sit back and watch technology careen us forward into a future that happens to us, rather than one we create, is hardly a viable option.

"This publication is a truly game-changing and promising first step in a direction – which has often felt long in coming – toward breaking the protective wall of specialisation that has allowed technologists to disassociate from the societal impacts of their technologies."

"It will demand that future tech leaders begin to take responsibility for and think deeply about the non-technical impact on disempowered groups, on privacy and justice, on physical and mental health, right down to unpacking hidden biases and moral implications. It represents a positive step toward ensuring the technology we build as humans genuinely benefits us and our planet," [University of Sydney software engineering Professor Rafael Calvo.]
"We believe explicitly aligning technology with ethical values will help advance innovation with these new tools while diminishing fear in the process" the IEEE said.
Source: Computer World