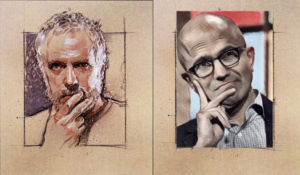 "You can't paint what you ain't."
– Drew Struzan
Those words got to me 18 years ago during an interview I had with this esteemed artist. We were working on a project together, an interactive CD about his movie posters, several of which were classics by then, when the conversation wandered off the subject of art and we began to examine the importance of being true to one's self.  
"Have you ever, in your classes or seminars talked much about the underlying core foundation principles of your life?" I asked Drew that day.
His answer in part went like this: "Whenever I talk, I'm asked to talk about my art, because that's what they see, that's what's out front. But the power of the art comes out of the personality of the human being. Inevitably, you can't paint what you ain't."
That conversation between us took place five days before Columbine, in April of 1999, when Pam and I lived in Denver and a friend of ours had children attending that school. That horrific event triggered a lot of value discussions and a lot of human actions, in response to it.
Flash-forward to Charlottesville. And an email, in response to it, that the CEO of a large tech company sent his employees yesterday, putting a stake in the ground about what his company stands for, and won't stand for, during these "horrific" times.
"… At Microsoft, we strive to seek out differences, celebrate them and invite them in. As a leader, a key part of your role is creating a culture where every person can do their best work, which requires more than tolerance for diverse perspectives. Our growth mindset culture requires us to truly understand and share the feelings of another person. …"
If Satya Nadella's email expresses the emerging personality at Microsoft, the power source from which it works, then we are cautiously optimistic about what this could do for socializing AI.
It will take this kind of foundation-building, going forward, as MS introduces more AI innovations, to diminish the inherent bias in deep learning approaches and the implicit bias in algorithms.
It will take this depth of awareness to shape the values of Human-AI collaboration, to protect the humans who use AI. Values that, "seek out differences, celebrate them and invite them in."
It will require unwavering dedication to this goal. Because. You can't paint what you ain't.
Blogger, Phil Lawson
SocializingAI.com