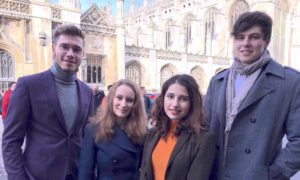 "Hi, I'm LawBot, a robot designed to help victims of crime in England."
While volunteering at a school sexual consent class, Ludwig Bull, a law student at the University of Cambridge, was inspired to build a chatbot that offers free legal advice to students. He enlisted the help of four coursemates, and Lawbot was designed and built in just six weeks.
The program is still in beta, but Bull hopes it will help victims of crime, at Cambridge and beyond, to get justice.
"A victim can talk to our artificially intelligent chatbot, receive a preliminary assessment of their situation, and then decide which available actions to pursue"
Source: The Gaurdian