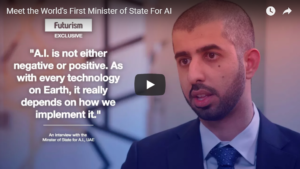 On October 19, the UAE became the first nation with a government minister dedicated to AI. Yes, the UAE now has a minister for artificial intelligence.
"We want the UAE to become the world's most prepared country for artificial intelligence," UAE Vice President and Prime Minister and Ruler of Dubai His Highness Sheikh Mohammed bin Rashid Al Maktoum said during the announcement of the position.
The first person to occupy the state minister for AI post is H.E. Omar Bin Sultan Al Olama. The 27-year-old is currently the Managing Director of the World Government Summit in the Prime Minister's Office at the Ministry of Cabinet Affairs and the Future,
"We have visionary leadership that wants to implement these technologies to serve humanity better. Ultimately, we want to make sure that we leverage that while, at the same time, overcoming the challenges that might be created by AI." Al Olama
The UAE hopes its AI initiatives will encourage the rest of the world to really consider how our AI-powered future should look.
"AI is not negative or positive. It's in between. The future is not going to be a black or white. As with every technology on Earth, it really depends on how we use it and how we implement it,"
"People need to be part of the discussion. It's not one of those things that just a select group of people need to discuss and focus on.
"
"At this point, it's really about starting conversations — beginning conversations about regulations and figuring out what needs to be implemented in order to get to where we want to be. I hope that we can work with other governments and the private sector to help in our discussions and to really increase global participation in this debate.
With regards to AI, one country can't do everything. It's a global effort," Al Olama said.
Source: Futurism