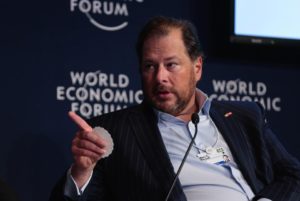 If Salesforce founder Marc Benioff has his way, artificial intelligence software will infuse every facet of the corporate world, making employees faster, smarter and more productive.
Recently he's been investing heavily, buying smaller companies and hiring talent to build an artificially intelligent platform called Einstein.
It's a big deal. Einstein will not just consume and manage information like traditional CRM software suites. It will learn from the data. Ultimately it will understand what customers want before even they know. That would be a game-changer in the CRM industry.
Building Einstein has not been easy, or cheap. Salesforce started buying productivity and machine learning startups RelateIQ, MetaMind, and Tempo AI in 2014. This year it acquired e-commerce developer Demandware for $2.8 billion, Quip for $750 million, Beyondcore for $110 million, three very small companies, Implisit Insights, Coolan and PredictionIO for $58 million and Your SL, a German digital consulting concern to round out its German softwareunit. If all of that seems like a lot, it is. It's also $4 billion spent and, more important, a significant increase in head count.
Source: Forbes