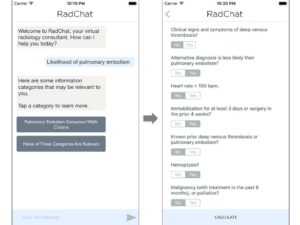 Doctors have created a chatbot to revolutionize communication within hospitals using artificial intelligence … basically a cyber-radiologist in app form, can quickly and accurately provide specialized information to non-radiologists. And, like all good A.I., it's constantly learning.
Traditionally, interdepartmental communication in hospitals is a hassle. A clinician's assistant or nurse practitioner with a radiology question would need to get a specialist on the phone, which can take time and risks miscommunication. But using the app, non-radiologists can plug in common technical questions and receive an accurate response instantly.
"Say a patient has a creatinine [lab test to see how well the kidneys are working]" co-author and application programmer Kevin Seals tells Inverse. "You send a message, like you're texting with a human radiologist. 'My patient is a 5.6, can they get a CT scan with contrast?' A lot of this is pretty routine questions that are easily automated with software, but there's no good tool for doing that now."
In about a month, the team plans to make the chatbot available to everyone at UCLA's Ronald Reagan Medical Center, see how that plays out, and scale up from there. Your doctor may never be stumped again.
Source: Inverse