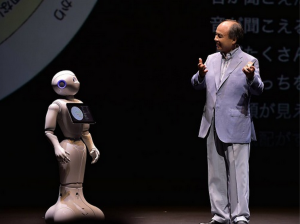 Taipei, June 21, 2015 (CNA) The initial batch of Pepper robots, developed by Japanese mobile carrier SoftBank Corp. and manufactured by Taiwan's Foxconn Technology Group (富士康), sold out in one minute on the first day of sales in Japan.
The 1,000 units of Pepper available for purchase in June sold out in 60 seconds when online orders started at 10 a.m. on Saturday, according to a statement from SoftBank Robotics Corp., a robotics venture by SoftBank, Foxconn and Chinese e-commerce leader Alibaba Group Holding Ltd.
Orders are no longer being taken and additional sales of Pepper, which sells for 198,000 Japanese yen (US$1,624), are scheduled to be announced on SoftBank's website in July.
In addition to Pepper's emotion recognition functions, the robot generates emotions autonomously by processing information from its cameras, touch sensors, accelerometer and other sensors within its "endocrine-type multi-layer neural network," SoftBank said.
Source: Focus Taiwan