Know everything about your business contact before you even walk into the room.
J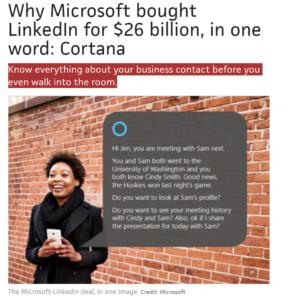 eff Weiner, the chief executive of LinkedIn, said that his company envisions a so-called "Economic Graph," a digital representation of every employee and their resume, a digital record of every job that's available, as well as every job and even every digital skill necessary to win those jobs.
LinkedIn also owns Lynda.com, a training network where you can take classes to learn those skills. And, of course, there's the LinkedIn news feed, where you can keep tabs on your coworkers from a social perspective, as well.
Buying LinkedIn brings those two graphs together and gives Microsoft more data to feed into its machine learning and business intelligence processes. "If you connect these two graphs, this is where the magic happens, where digital work is concerned," Microsoft chief executive Satya Nadella said during a conference call.
Source: PC World